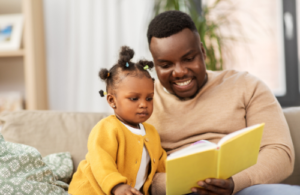 I am the father of twins – a boy and a girl. They are both in college and are doing well. I pray they stay covered in God's protection and grace and focused on achieving their goals in life. I take being a father very seriously because it is my responsibility. After all, I helped to produce them. Being a father has allowed me to instill the values and life lessons I have learned. That does not mean it has always been easy because, like life, you have your ups and downs.
My children's mother and I divorced when they were nine. That was an emotional toll on me because they were not physically with me daily. Secondly, there was an adjustment with working with their mother because we were divorced and had to work together on behalf of the kids. Through the good times and challenges, I knew I had to keep my children in mind because they depended on me. Therefore, I ensured I was engaged with my children by being there for them, teaching them, and listening to them.
Whether you have a daughter or son, your children need you to set an example and be positive. Not getting along with the mother is not an excuse not to be a part of their lives. Even if you were messing around with the woman with no serious intentions of furthering the relationship is no excuse for not being engaged in that child's life. As I see it, you helped make the son or daughter, and you must handle your business as a man and father.
Fatherhood is one of the greatest gifts in life. As a father, you can be an impactful presence and positive example in your children's lives. The residual from making positive deposits into your children is that they will remember what they have been taught and follow through positively. As a father, it is about being an example for your children, holding them accountable, being there for them, and making positive deposits.
Here are five ways to ensure that you are being the best man you can be for them:
Spend Quality Time with Your Children – Take the time to engage with your children and listen to their ideas, stories, and experiences. Quality time together strengthens the bond between a father and his children while teaching them valuable life lessons.
Lead by Example – Set an example for your children through your behavior, attitude, work ethic, and character. Showing them how to conduct themselves and the importance of living a moral and ethical lifestyle will have a lasting impact.
Be Supportive – Show your children you are there for them through thick and thin. Offer emotional support, encouragement, and understanding when needed; this will help foster their self-esteem and confidence.
Teach Life Skills – Teach your children essential life skills that will help them as they grow up, such as responsibility, financial management, or critical thinking. These are all crucial lessons that can set them up for success in the future.
Have Fun Together – Your children's lives should be filled with joy and laughter! Spend time having fun together by playing games, going out on adventures, or even just having silly conversations. This will help create lasting memories and ensure your relationship remains vital for years.
Fatherhood is a beautiful privilege, and the opportunity to be an impactful presence in your children's lives comes with it. By showing support, leading by example, and having fun together, you can help set your children up for success. Be the best man you can be and take advantage of the special moments that come with fatherhood. Your children will thank you for it!
Alan D. Benson is an accomplished author and the President of Benson Group, LLC. As a business leader and entrepreneur, Alan focuses on helping clients achieve their goals and objectives. To learn more about Alan and Benson Group, LLC, please visit www.alandbenson.com and bensongroupllc.com. You can also connect with Alan on Twitter, LinkedIn, and Facebook.