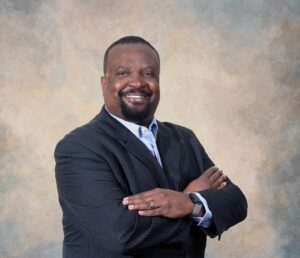 Alan D. Benson is the Founder and President of Benson Group, LLC. He has more than 25 years of experience in leadership roles. He has empowered and managed teams to achieve company goals, created personal and professional growth plans for employees, facilitated training, and created systems that streamlined operations.
Alan is passionate about helping others reach their true potential, live a purposeful life, and pursue their educational goals. He believes what we experience in life helps to shape our identity, attitude, and belief system. From those experiences, he feels it is essential to recognize, decipher, and transform them into actionable steps to achieve our purpose in life. This belief is the driving force behind why he has written three books. Through his books, he aims to open the portals of knowledge to help people be in a better place.
Alan earned a Bachelor of Science degree in Political Science and a Master of Public Administration degree from the University of Louisville. He also earned a Master of Business Administration degree from Indiana University Southeast. He also served in the United States Marine Corps and is a Persian Gulf War veteran. He is married to Dr. Debbie Benson and has two children, Hilton and Hayley Benson.